Welcome to First Security Agency of MN, Inc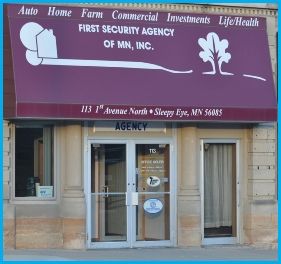 First Security Agency has been proudly serving Sleepy Eye and the state of Minnesota for over 100 years. Our goal is to provide our insureds with the best coverage at an affordable price from a great company.
Our experienced and professional staff is able to provide you with choices from several different companies. We specialize in providing insurance for homes, autos, farms, and businesses. We also provide crop insurance and health insurance plans for both individuals and groups.
Regardless of what your needs are, you can trust our experience to provide you with exceptional value and excellent service. We are an independent, locally owned insurance agency that is committed to serving each of our client's unique needs. Call one of our licensed agents today at 507-794-2156, or e-mail us at info@firstsecurityagency.net to learn more about how we can serve you.